New additions to our Library: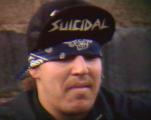 ALTERNATE BEAT TV
ALTERNATE BEAT TV was born from the love of music. Started in Cleveland, OH in 1987 when Patrick Wilbraham, musician, introduced Tom Common, video director, to John Latimer, music business professional and together the three sat down and scripted a rough idea for a new show. Common's background in television combined with Latimer's contacts in the music industry was a perfect combination for something new and fresh.
The first band that Latimer lined up was the Psychedelic Furs when they performed at the Blossom Music Center near Cleveland, Ohio. After that, it became obvious that this was a viable venture.
Some notable interviews include: The Ramones, The Red Hot Chili Peppers, Echo and the Bunnymen, Concrete Blonde, The Sugarcubes, The Replacements, New Order, The Smithereens, The Bodeans, Adrian Belew, Faith No More, Crowded House, Jerry Harrison, Love and Rockets, Gene Loves Jezebel, The Alarm, The Jesus and Mary Chain, and many more
View comp reel Browse footage…
View more...