New additions to our Library: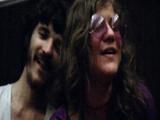 FESTIVAL EXPRESS
During the summer of 1970 popular rock bands The Grateful Dead, Janis Joplin and her band, The Band, Ten Years After, Flying Burrito Brothers, Sha Na Na, Stevie Winwood & Traffic, Blues legend Buddy Guy, Delaney & Bonnie & Friends, Ian & Sylvia and others embarked on a mammoth trip via private train across Canada. Along the way they stopped off at different Canadian cities and staged a series of "All Star" concerts.


The footage, shot by Academy Award winning cinematographer PETER BIZIOU and directed by double Grammy winner Bob Smeaton, combines live footage shot during the 1970 concerts as well as footage aboard the train itself which captures legends such as Janis Joplin, Jerry Garcia and the Band's Rick Danko having a grand old time singing and partying along the way. A feature documentary was produced by Gavin Poolman (son of the original 1970's film's producer Willem Poolman) and John Trapman and released in 2003. Historic Films is currently digitizing close to 96 hours of ADDITIONAL concert and behind the scenes footage including the only known version of ME & MY BOBBY MCGEE as performed by JANIS JOPLIN accompanying herself on acoustic guitar. LEGENDARY!!!
View comp reel Browse footage…
View more...